The beaches of Soulac-sur-Mer
If you're looking for a vacation or weekend break in the south of France, how about the sunny Gironde town of Soulac-sur-Mer? This seaside resort offers an exceptional setting for moments with your children right on the ocean.
To discover the beaches of Soulac-sur-Mer, the Domaine des Carrelets opens its doors to you. We are a 5-star campsite close to the most beautiful beaches of the seaside resort of Soulac-sur-Mer.
Soulac-sur-Mer's 7 km of beaches are just waiting for you; follow the guide!
Soulac-sur-Mer: a little corner of paradise in Gironde
The town of Soulac-sur-Mer nestles on the tip of the Médoc. It's a charming destination that appeals to travelers. Its rich cultural heritage, unspoilt natural environment and colorful little streets make it a great place to spend your vacations. But much more than that, its beautiful beaches attract a plethora of visitors in search of sun, sand and sea.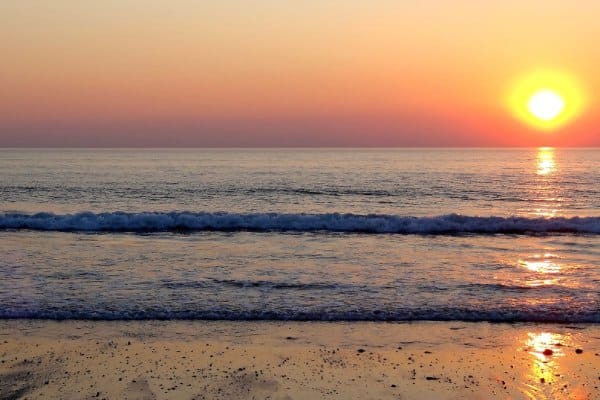 The beaches of Soulac-sur-Mer: where to go?
Each of Soulac-sur-Mer's beaches has its own charm, satisfying both families looking for a quiet spot to swim with the kids and holidaymakers looking for water sports.
Here are the most beautiful beaches in Soulac-sur-Mer:
Central beach or Soulac beach
After crossing the Rue de la Plage, which runs through Soulac-sur-Mer town center, you'll find the Plage Centrale. This beautiful stretch of golden sand is the place to be for visitors to Gironde, from intrepid sports enthusiasts to sunbathers. Surfers all agree: the waves are perfect. Place Centrale is a supervised beach, and pets are not allowed in due to the crowds. During the high season, surveillance hours are from 11 a.m. to 7 p.m.
Naïades beach or South beach
Straddling a pine forest and the Atlantic Ocean, Plage des Naïades is a very picturesque beach. Tourists looking for relaxation and rejuvenation can enjoy the tranquility of this little haven of peace in the heart of the Gironde. Cyclists in particular will be delighted, as part of the Vélodyssée runs along the beach. Before or after your swim, you can explore this famous bike path and enjoy panoramic ocean views. South Beach is supervised from 11 a.m. to 7 p.m. during the vacation period.
Amélie beach
Set back from Soulac-sur-Mer town center and right next to our campsite, the Amélie beach is renowned for its calm waters, which have earned it a number of positive reviews. This makes it an ideal beach for a day's swimming with the kids. Surfers will also find a pleasant surf spot here. The Amélie beach at Soulac-sur-Mer is also a supervised beach. Swimming hours during the summer season are from 11 a.m. to 7 p.m.
Plage des Olives or Plage Nord
Would you like to enjoy the beach in the seaside resort of Soulac-sur-Mer while getting away from the summer crowds? Meet at Plage des Olives. This is another beach close to the Vélodyssée, and you can reach it by bike. From the fine sand, enjoy a view of the Cordouan lighthouse. Plage des Olives welcomes bathers from 11 am to 7 pm. Swimming is supervised and pets are not allowed during the vacation season.
Other beaches in Soulac-sur-Mer
Pointe de Grave beach. This beach is located in Verdon on the other side of Royan, at the end of the Pointe du Médoc.
La Négade beach. It's a secluded, almost deserted beach that will appeal to nature lovers.
Saint-Nicolas beach. Located on the Pointe du Médoc, it's the town's only supervised ocean beach.