Our vacation rentals in Soulac-sur-Mer, Gironde
Discover our accommodation for your vacation in Soulac-sur-Mer in the Médoc. Our accommodations can sleep up to 10 people (5 bedrooms) and offer all the comfort you need for a camping holiday in Soulac, close to the beach and the Gironde Estuary.
Our types of mobile homes for vacation rental
in Soulac-sur-Mer
For your next stay in Nouvelle-Aquitaine, in the Médoc, book a mobile home in Gironde from Domaine Les Carrelets as a vacation rental in Soulac. We offer 2 types of accommodation for your stay: mobile homes with several ranges or luxury cabins.
The 3-flower range includes standard rentals. Sunbathing on the terrace offers you moments of relaxation under the sun.
The 4-flower range is made up of unusual accommodations with atypical decor. Their pretty wooden terrace with plancha promises moments of sharing.
In the heart of the pedestrian district, discover our Premium range of luxury accommodations
These cabins feature a private Jacuzzi on the terrace.
Our vacation rentals in Soulac-sur-Mer can sleep from 2 to 10 people, from 2 to 5 bedrooms. For maximum comfort, each mobile home has a terrace, air conditioning, spacious bedrooms and bathrooms. Depending on the number of people staying and your needs, you can choose from several ranges of vacation rentals in Soulac.
Les Carrelets de Soulac welcomes you to its 5-star estate for a peaceful stay in a family campsite in Gironde. Surrounded by nature, the estate is located on the edge of the municipal forest of Grayan-et-l'Hôpital, not far from the ocean and its superb beaches.

Enjoy an ideal location between the Gironde and Landes regions, in the heart of nature. With several swimming pools, one indoor and one outdoor, you'll enjoy a very pleasant environment for your vacation in Soulac-sur-Mer. Several types of accommodation are available, so you can choose the number of rooms, capacity, facilities, price and number of nights to suit you.
Our luxury cabins to rent for your vacations in Gironde
For your vacation rental in Soulac, you can opt for one of the luxury cabins in Gironde at Domaine Les Carrelets. The design of these cabins, conceived as chalets, combines rustic charm and modernity. An ideal vacation rental for those looking for a luxurious stay in a 5-star campsite in Soulac-sur-Mer.
The cabins at the campsite have been built to blend seamlessly into the surrounding wooded, green natural setting.
These cabins have 2 or 3 bedrooms, sleeping 4 to 6 people. They have Jacuzzi/spa facilities, and bicycles are available for exploring the Médoc and surrounding area from our wellness campsite. So you can cycle to the beach.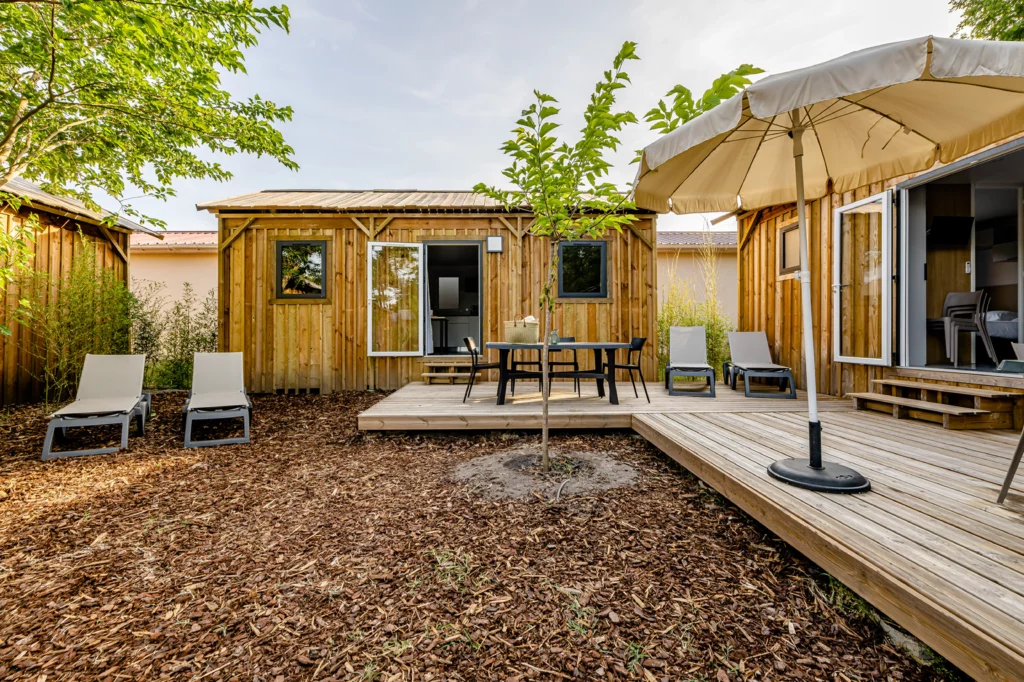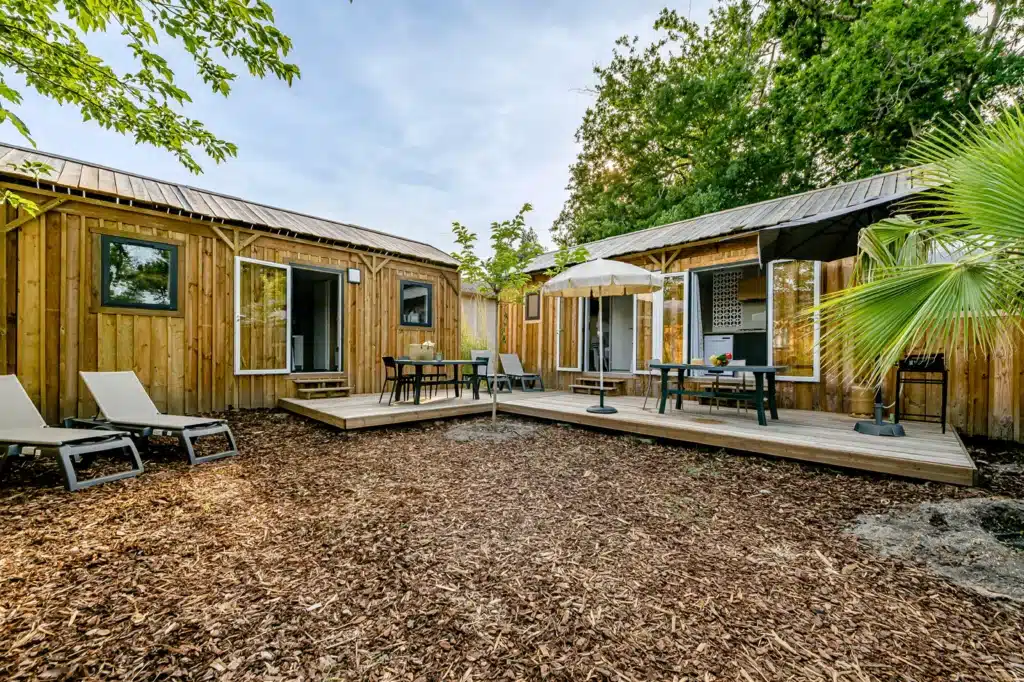 Our vacation rentals in Gironde are all equipped with bathrooms, a living room and a kitchen area. They can accommodate between 4 and 6 people, and have the necessary number of beds to suit couples, groups of friends or large families. Each cabin has a private terrace and air-conditioning for a peaceful stay.
Like mobile homes, cabins also come in a Twin range, which can sleep up to 10 people. These cabins are made up of 2 separate accommodations linked by a shared terrace. 3 bathrooms, 2 fitted kitchens (1 kitchen in each unit), 5 bedrooms and air conditioning provide all the comforts you need for an unforgettable vacation in Soulac sur Mer.
The luxury cabins are located in a privileged pedestrian environment. Your vacation rental in Soulac is therefore strategically placed on the campsite, without the inconvenience of nearby cars.
See luxury cabins
Campsite Domaine Les Carrelets de Soulac
Domaine Les Carrelets campsite is located less than 5 km from Soulac sur Mer town center, on the Pointe du Médoc and the Gironde Estuary for your vacations in New Aquitaine. To make the most of the beaches of the South of France and the ocean, the establishment is just a few minutes from the Amélie beach, in the heart of a lush forest.
Visit Yelloh! Les Carrelets is located 15 minutes from Verdon-sur-Mer, from where you can take a boat to the Port of Royan, a popular tourist destination in Charente Maritime.
By renting your vacation rental in Soulac sur Mer on a campsite, you benefit from all the advantages offered by this 5-star estate: swimming pool, services, atmosphere, activities for children and adults, kids' club…
2 swimming pools to enjoy your vacation in Soulac
Our 5-star establishment boasts an aquatic area with 2 pools and a paddling pool for the little ones. The campsite's 500 m2 outdoor swimming pool is ideal for a refreshing swim with family and friends. Deckchairs surround the pool, so you can relax just a stone's throw from your rental in Soulac sur Mer.
A 200 m² indoor swimming pool welcomes you whatever the weather. The water is heated so that customers can enjoy the water from opening to closing.
Aquagym and muscle-building sessions are offered regularly during the summer vacations by our campsite with swimming pool in Soulac-sur-Mer. The water park is open from 10 a.m. to 6 p.m. in low season and until 8 p.m. in high season. In this campsite close to the beaches, these 2 swimming pools are a real asset for varying the pleasures and enjoying your vacation.
Activities around your vacation rental
Domaine Les Carrelets offers a wide range of activities and facilities to keep you entertained during your stay.
A multisport pitch, a large garden and a pleasant playground for children are also available.
There's also a bowling alley, ping-pong tables and a free miniature golf course for the whole family to enjoy.
A weight room and a wellness area with sauna and hammam welcome those who wish to relax and get back into shape during their vacation.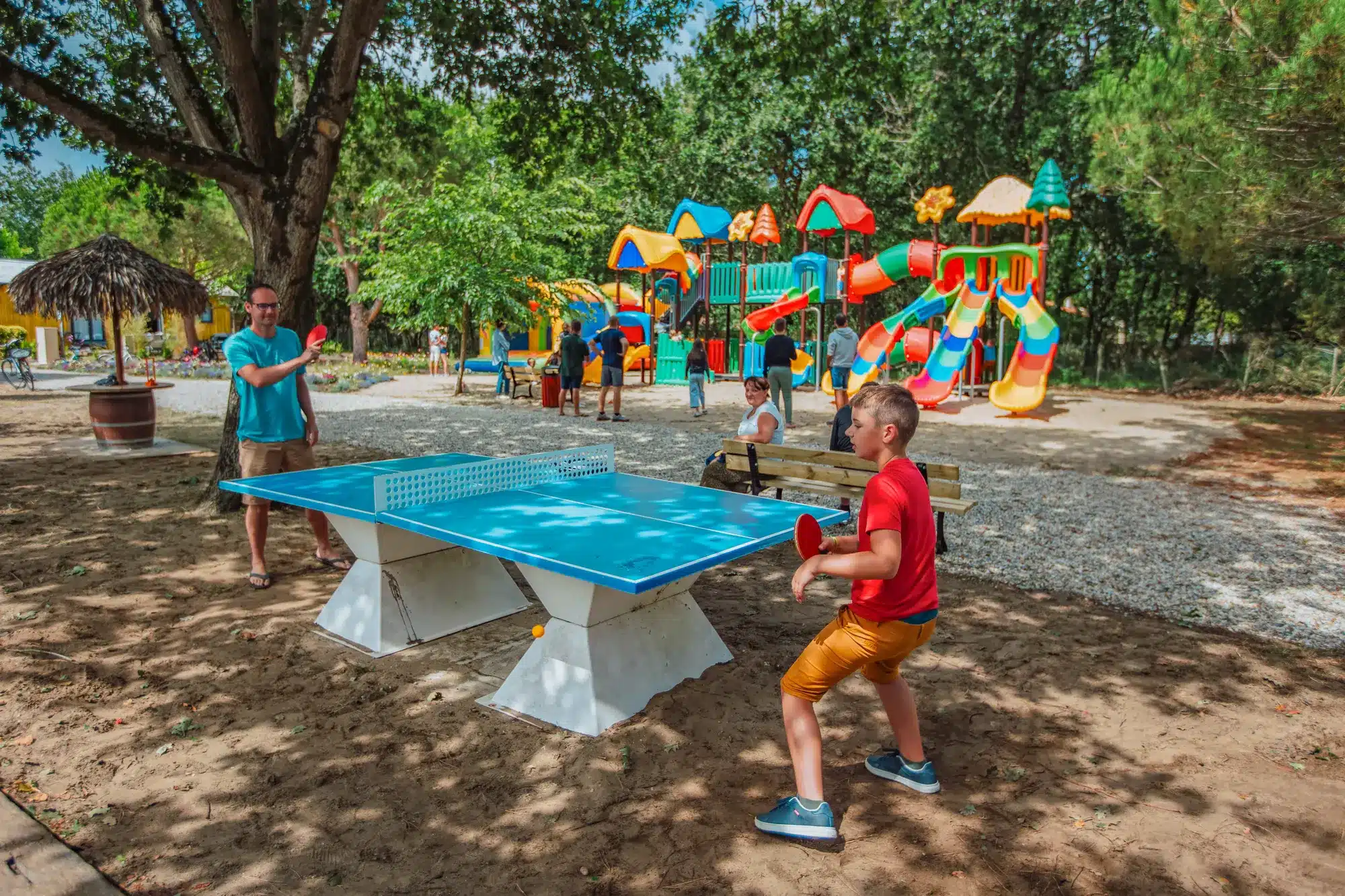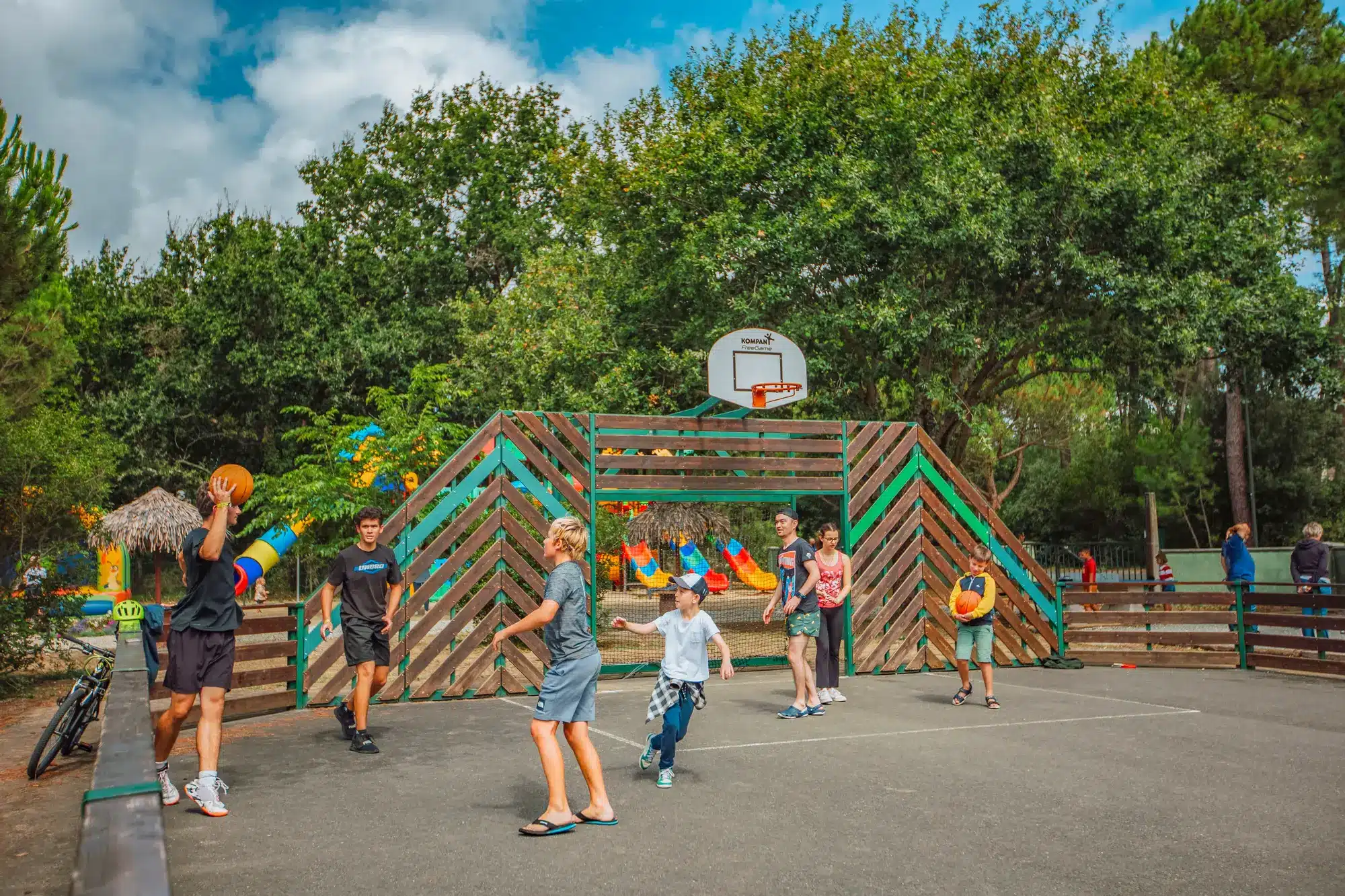 Children's club
Entrust your children to Mizzy Club 's professional entertainers during your stay at Domaine Les Carrelets. The team in charge of the campsite's children's clubs has no shortage of imagination to entertain your little ones aged 4 to 12.
The club's sports and creative activities are organized by age group and are ideal for your children to enjoy, while staying close to their vacation rental.
A teen club for older children aged 13 to 17 is also available during the summer vacations. Our entertainers concoct a program of fun activities to keep them entertained.
Services for vacation rentals
Throughout your vacation at Domaine Les Carrelets, our team will welcome you with a smile and good humour.
It is possible to rent baby equipment and household linen for your vacation rental in Soulac-sur-Mer. A laundry is also open daily. We offer a cleaning package for your room, bathroom and the entire accommodation.
Free wifi in the reception area, restaurant and luxury cabins.
Les Carrelets de Soulac restaurant
Our restaurant in Soulac sur Mer invites you to discover the region's gastronomy through a wide-ranging menu. The chef and his team prepare tasty dishes using local, fresh, organically grown produce.
In addition to typical Gironde dishes, you can also order snacks, pizzas and drinks to eat in or take away.
During the July and August high season, the Domaine Les Carrelets campsite restaurant is open from 12 midday to midnight.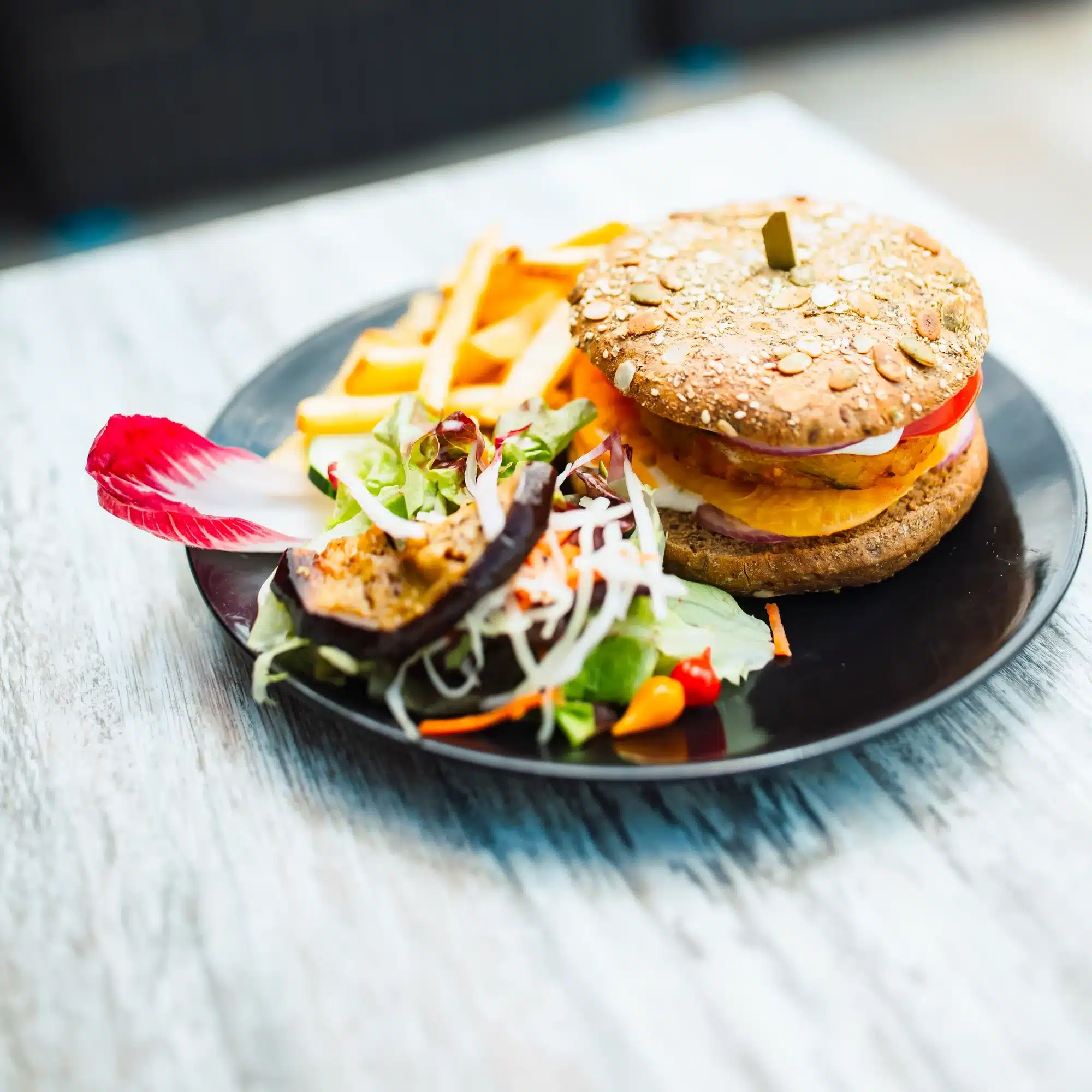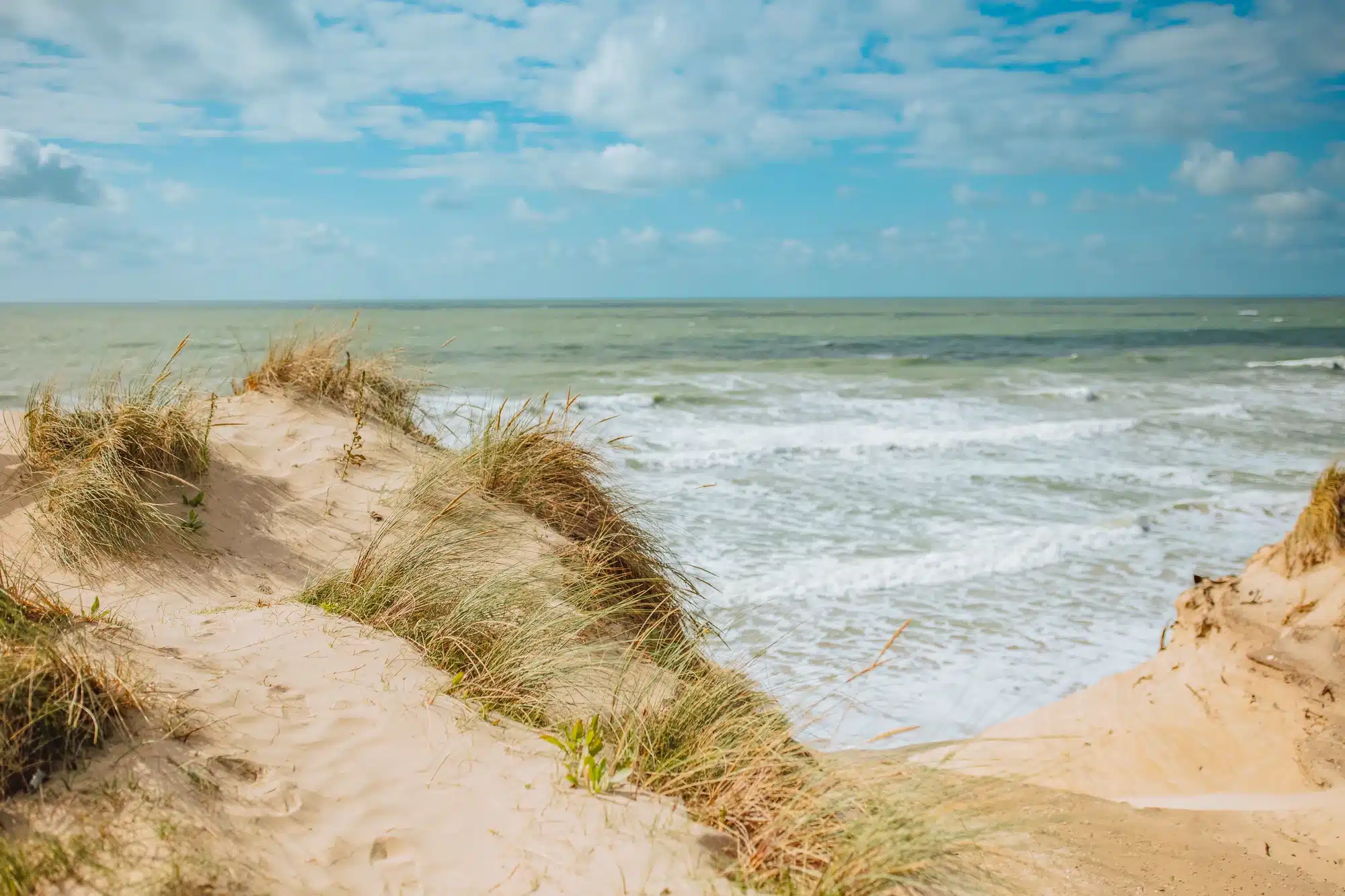 Nature vacations, camping by the sea at Soulac
Book your vacation rental in Soulac-sur-Mer at the Domaine Les Carrelets campsite and enjoy a break in the heart of Gironde nature. Located on the edge of the Landes forest, it's the ideal place to recharge your batteries in a natural setting.
Domaine Les Carrelets is located just a few minutes from the ocean. Swimming, strolling along the Soulac sur Mer beach or sunbathing, there's no shortage of activities close to the campsite.
What do our customers thinkof ?
A very satisfying last-minute booking and first camping experience. Everything was on a human scale, which was very much appreciated. The luxury cabin lives up to its name: the facilities provided were much appreciated (jacuzzi, bicycles, wifi access, plancha…). Renovated and very clean accommodation with functional facilities. In addition to the comfort, we found the peace and quiet we were looking for: a top-notch stay in a well-kept and very pleasant place!
Ana - August 2023
Super week mobil-home any comfort activities and swimming pool super
Mylène - August 2023
We spent a week's vacation at the "domaine les carrelets de Soulac" campsite in a 6-person COMFORT mobile home.
The mobile home is clean, functional, well located and quiet.
Sylvain - August 2023