Our mobile homes for rent in Soulac-sur-Mer
Our campsite offers a wide choice of rental accommodation in Soulac-sur-Mer. In all, it lets you choose between 3 types of mobile homes to rent in Gironde.
Our mobile homes are all air-conditioned, so you can be sure of a cool night's sleep.
Search by range
your vacation rental in Soulac-sur-Mer
A traditional formula with 2 or 4 bedrooms and 2 bathrooms, accommodating from 2 to 8 people.
The Comfort mobile home, with 2 or 3 bedrooms, is ideal for a group of 4 to 6 people. The 5-bedroom Confort Twin, on the other hand, is ideal for up to 10 people, and comprises two units separated by a terrace.
The Premium range is made up of 2 or 3 bedrooms, this category of mobile home promises a high level of comfort and can sleep from 4 to 6 people.
Our mobile homes for 10 people in Soulac
The campsite in Gironde offers mobile-home rentals in Soulac-sur-Mer with a large capacity for 10 people. With 5 bedrooms and 2 bathrooms, you'll love this large 59 m² pet-friendly complex.
It contains everything you need for a successful vacation: from a living area with TV to sleeping areas with separate bedrooms. Among other things, this rental offers 2 separate accommodations, each with its own kitchen: practical when several families get together.
At mealtime, gather around the table on the large communal terrace to enjoy your mobile home rental in Gironde together.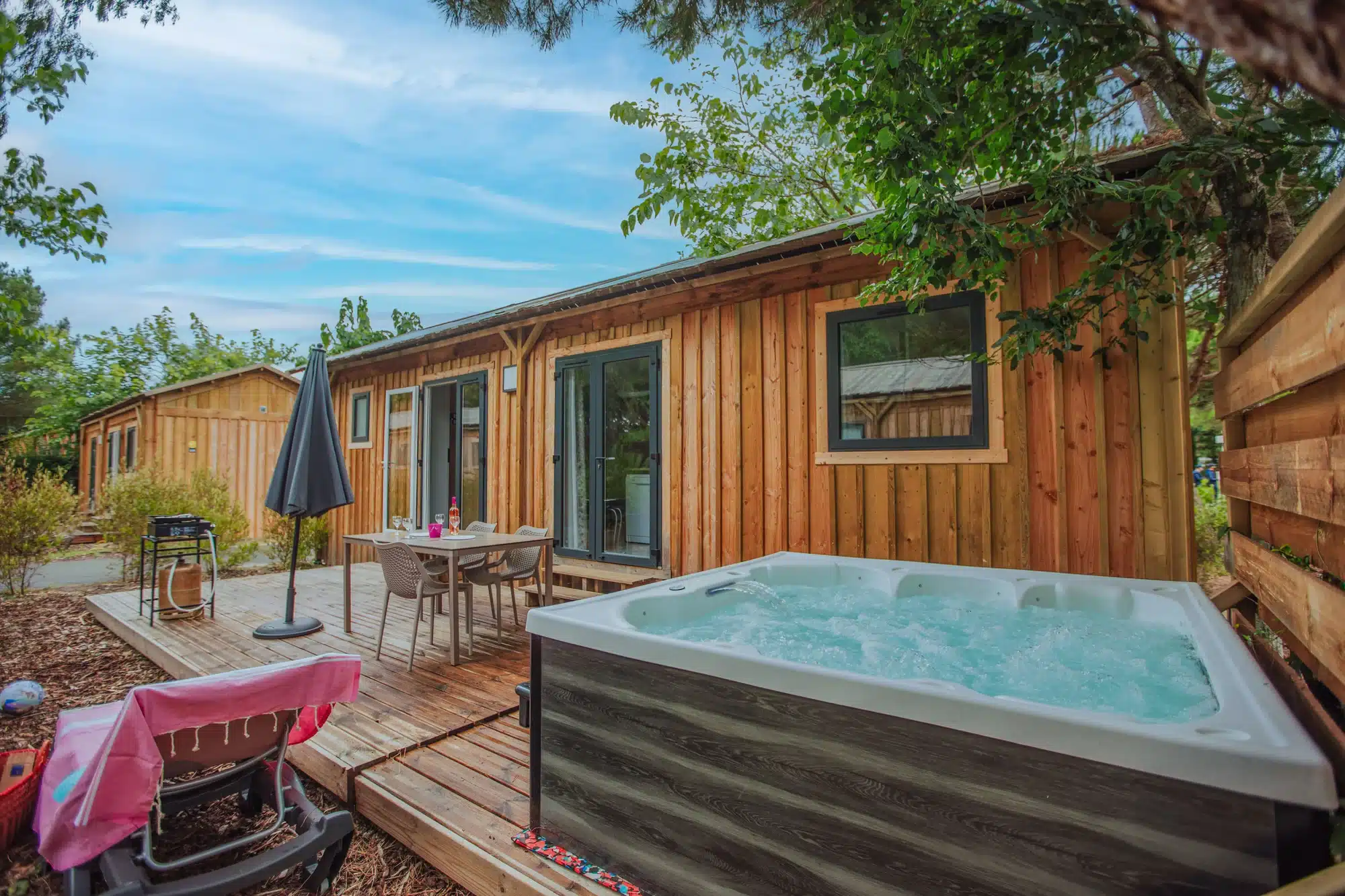 Our luxury mobile homes: cabins
You can also rent a luxury mobile home in Soulac: our cabins! Enjoy the comfort of a hotel in a lush, green setting in these wooden cabins, equipped with all the comforts of home and a private spa / jacuzzi.
For vacations with a large family or several couples in a Soulac sur Mer mobile home rental, simply book one of our Twin cabins, for 10 people. Enjoy the comfort of a 68 m² complex with two accommodations connected by an attractive terrace. You'll enjoy 5 bedrooms and 3 bathrooms spread over 2 cabins. You'll have 2 kitchens at your disposal, and more privacy thanks to 2 separate areas.
Our campsite in Soulac-sur-Mer
The Domaine les Carrelets de Soulac campsite is ideally located in the seaside resort of Soulac-sur-Mer in the Médoc region of Gironde. Between dunes, long Atlantic Ocean beaches and nature, you'll spend a dream holiday surrounded by nature.
When you book your mobile home rental in Soulac-sur-Mer, you can reach the town of Royan by boat at any time from the town of Le Verdon-sur-Mer (15 minutes away Yelloh! Village ).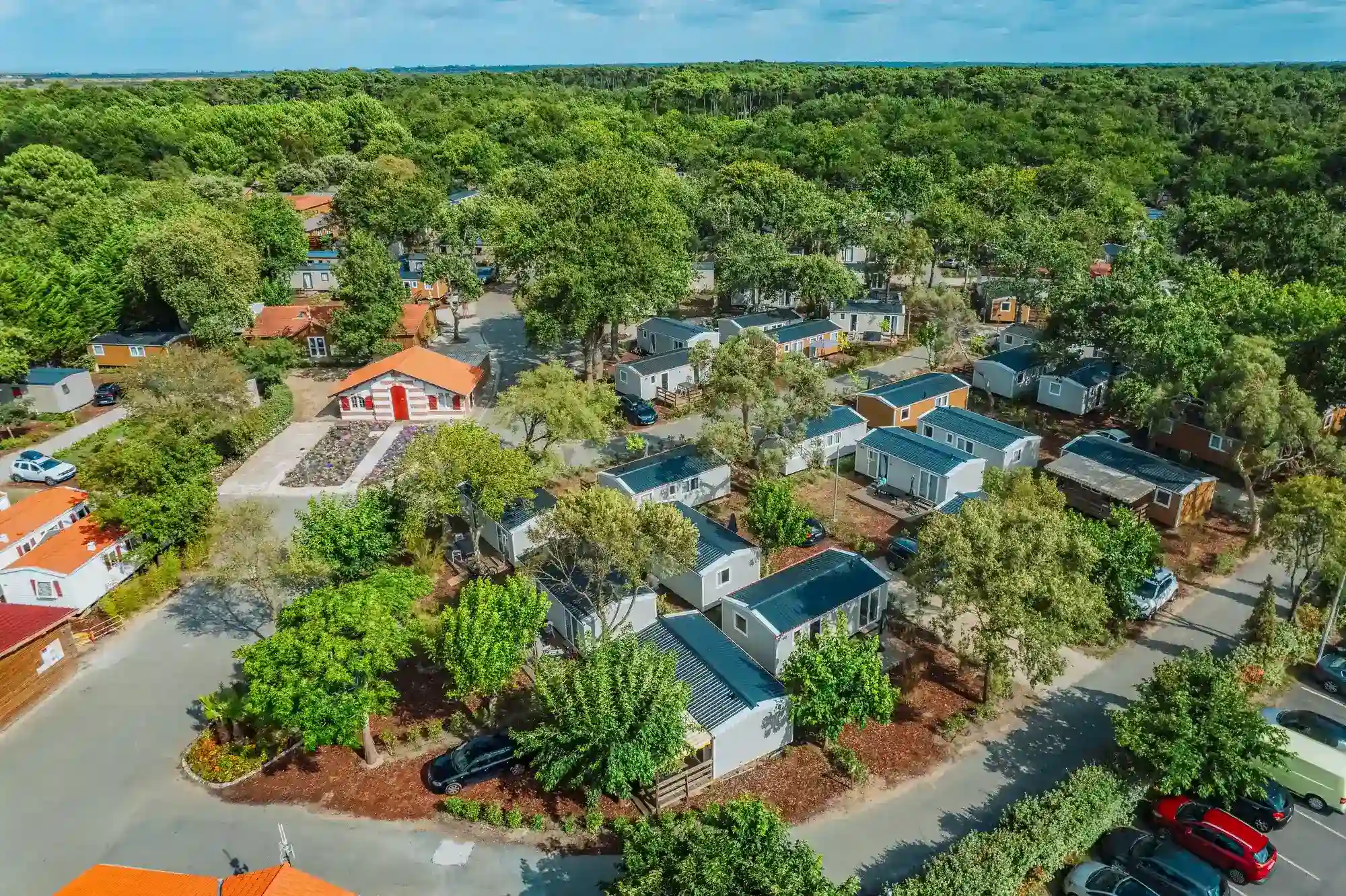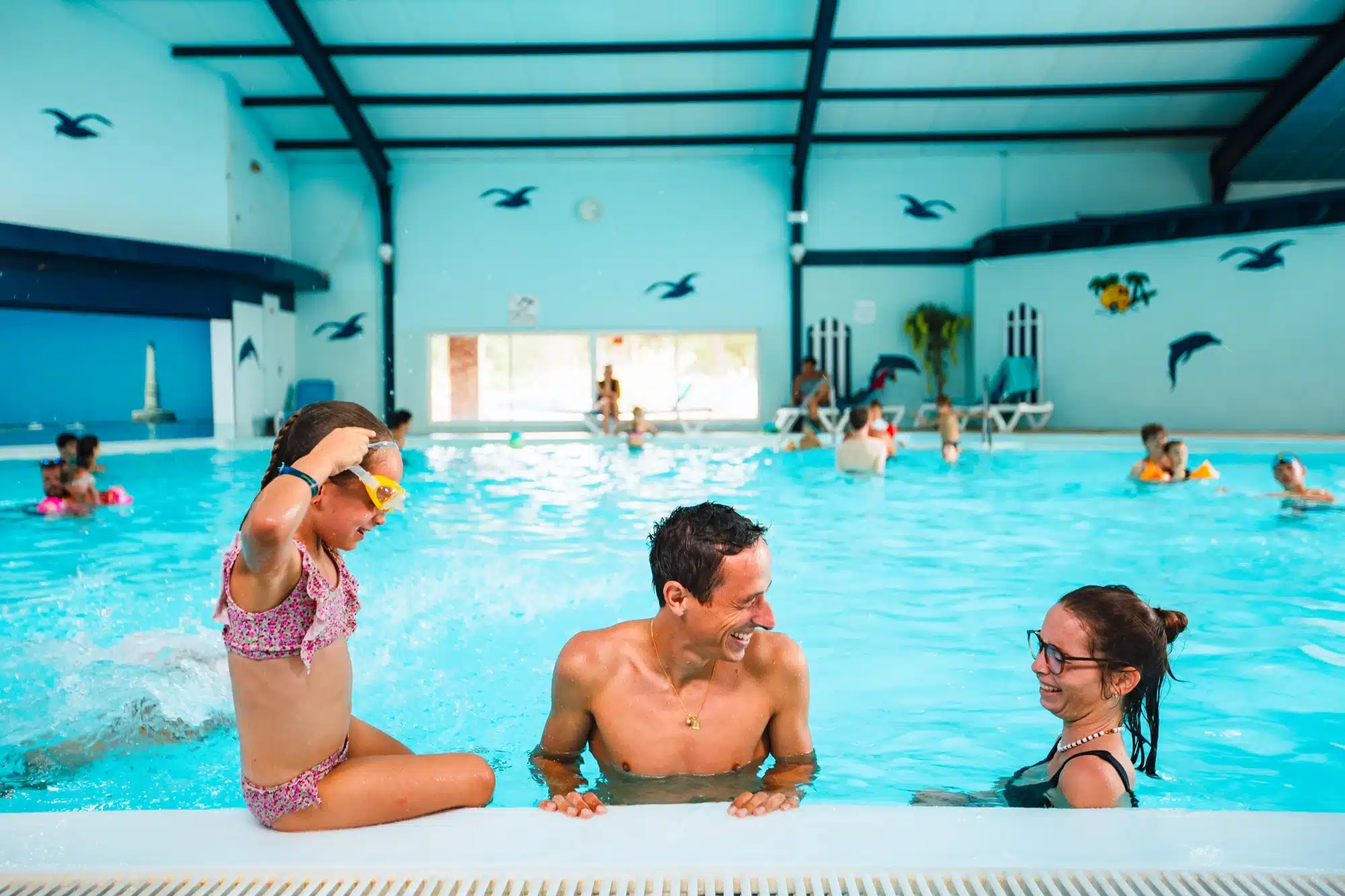 2 swimming pools close to the mobile homes
In addition to restful nights, renting a mobile home in Gironde at Les Carrelets de Soulac means you can take full advantage of the campsite's aquatic area. To cool off on sunny days, take a dip in the huge 500 m² outdoor pool.
You can also take advantage of the 200 m² heated indoor pool. On the other hand, the paddling pool will become your children's playground. They can have fun in complete safety.
All around the main pool, deckchairs await you for moments of relaxation by the water.
Activities around your mobile home
When you rent a mobile home in Soulac-sur-Mer at our Les Carrelets campsite, you also have the opportunity to choose from a range ofleisure and sports activities. Mini-golf, soccer, aquagym, gym in high season, basketball… the choice is yours! New for 2023, our relaxation activities include awellness area with steam room, sauna and herbal tea room, as well as a massage area (in high season). Ideal for relaxing after a day of discovery. The campsite offers a full range of facilities for creating family memories.
The campsite's geographical location in Gironde, close to the Landes and Charente Maritime regions, means you can take advantage of all the region has to offer: large, beautiful beaches, forests, local markets, vineyards, access by boat to the town of Royan…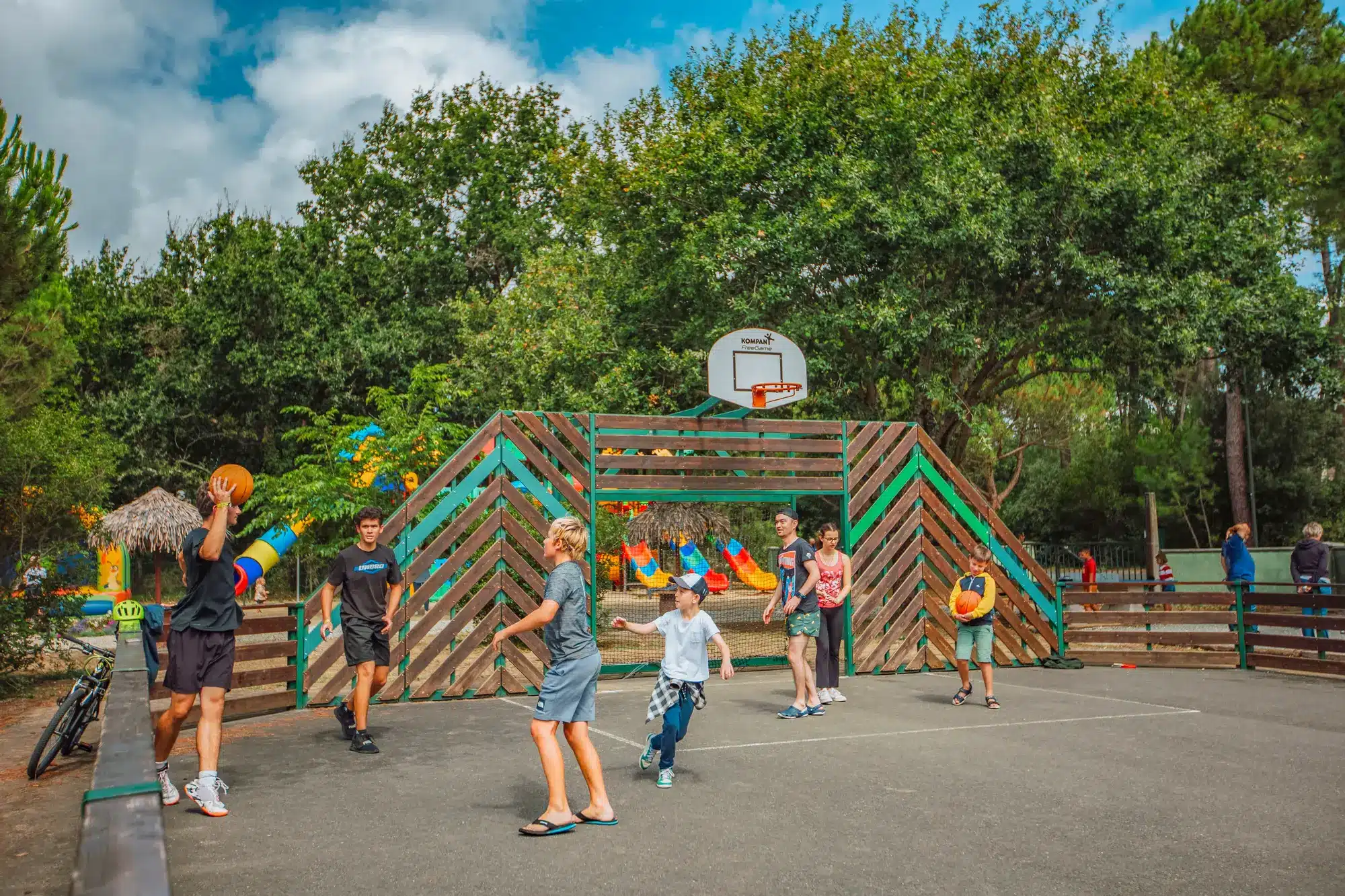 Kids' Club
At our family campsite in Gironde, Domaine Les Carrelets de Soulac, discover the clubs for children and teenagers and give them the opportunity to meet other children their age. With the help of Mizzy Club's qualified activity leaders, your little treasures can discover new sports and creative activities (ages 4 to 12).
For teens, too, our entertainers have planned a whole program of activities (adapted for an age range from 13 to 17) for an equally unforgettable stay.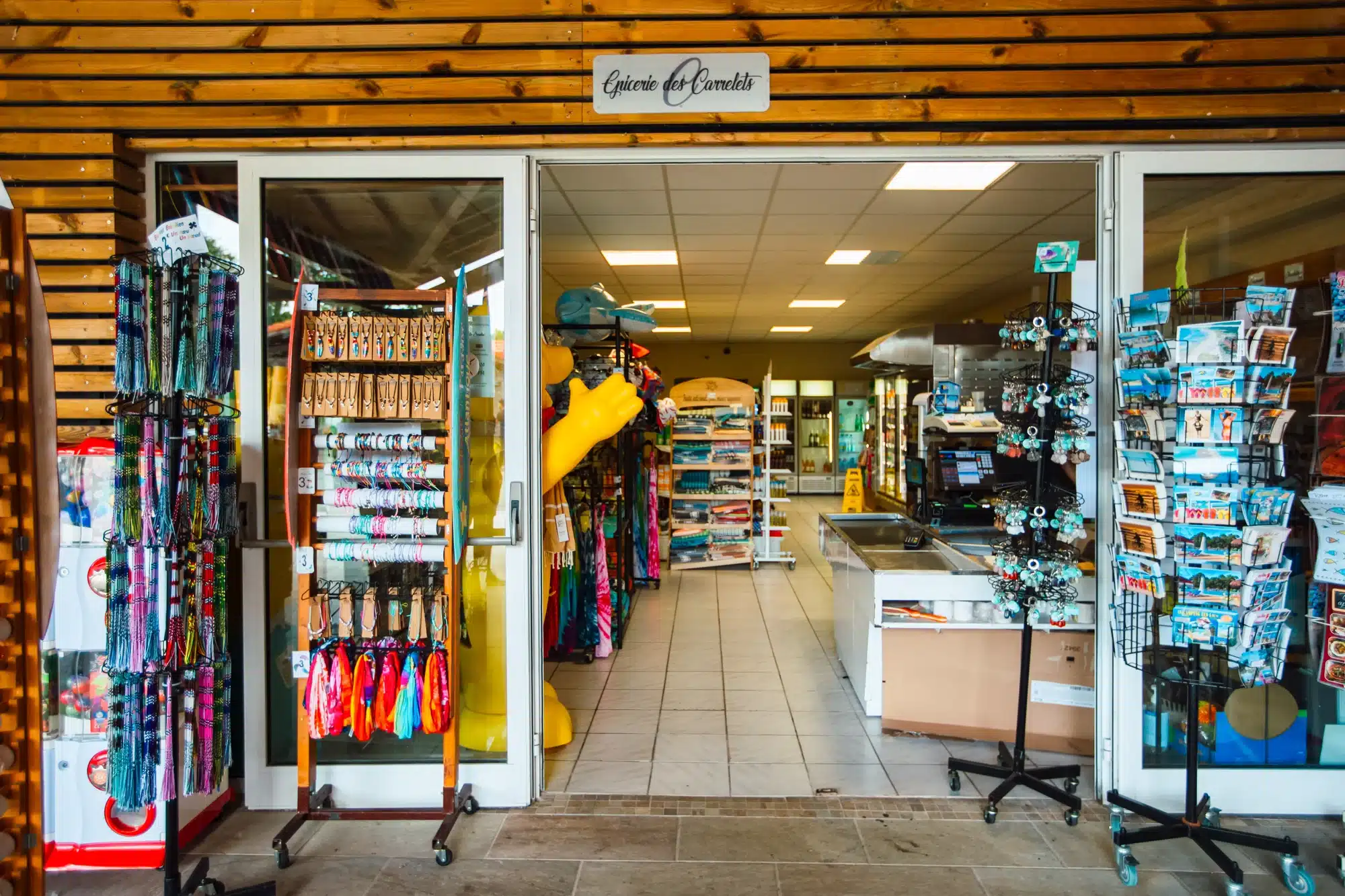 Services for vacation rentals
Renting a mobile home in Soulac-sur-Mer means a hassle-free vacation close to beaches and nature.
The team takes great care of you, so make the most of your stay. A range of services is available to make your vacation easier: linen hire, baby accessories, on-site catering or take-away, on-site grocery store, launderette, bike hire…
We've thought of everything to make sure your stay goes smoothly.
Les Carrelets de Soulac restaurant
On the Domaine des Carrelets, close to your mobile home, enjoy a restaurant in Soulac sur Mer. It's also an opportunity to discover local gastronomic specialties.
The on-site chef will be delighted to prepare dishes typical of south-western France, using local produce. But there's also nothing to stop you from ordering various dishes and drinks to go.
In July and August, the campsite catering team is at your service from 12am to midnight.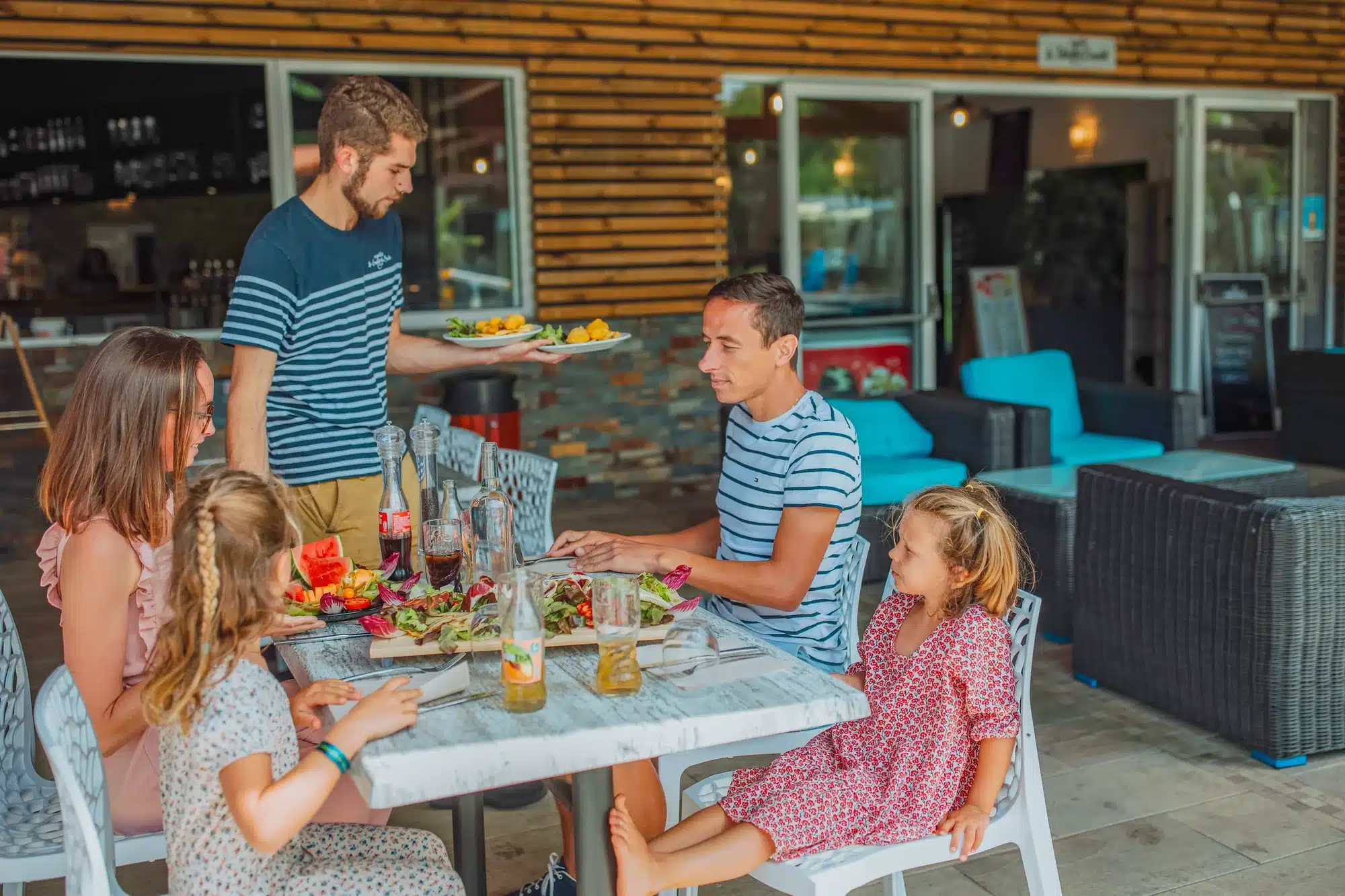 What do our customers thinkof ?
The reception staff are very friendly and attentive to our customers' needs. We appreciated the animation team and its anim live app. The children loved the entertainment and the instructors. Entertainment for adults was also on offer. The mobile home was just perfect. We also enjoyed the peace and quiet of the countryside. We had a great stay with lots of memories. We'll be back. Long live the Les Carrelets team!
Thérèse D - August 2023
For the second time, we enjoyed a pleasant family stay in a luxury cabin. The mobile home is well laid out, clean and well equipped. The outdoor setting is pleasant and every effort is made to respect everyone's privacy. Bicycles were included in the rental, great for family outings. The team is top-notch and responsive.
An outdoor swimming pool was sufficient, and the children were happy to swim in it.
Activities organized throughout the stay for everyone.
Alexandra M - August 2023
The 6-person luxury cabin is well appointed and clean. The terrace is very pleasant with its deckchairs and jacuzzi. Two bicycles are available with the rental and beds are made on arrival. The restaurant is very good and the staff very pleasant. The cocktails are excellent Bravo Jérémy 👏 The app with the activities is handy for signing up for the course and seeing the entertainment on offer at the campsite. The entertainers and sports classes are top-notch. The campsite is clean and well equipped. There's a lovely air-conditioned gym.
Sabine F - August 2023