Our luxury cabins in the Médoc at Soulac-sur-Mer
Les Luxe
For your next stay in the Médoc, rent one of our cabins in Soulac-sur-Mer offered by Domaine Les Carrelets.
We rent out atypical accommodations, equipped with all the comforts you need.
Our luxury cabins welcome you from April to September in the heart of wooded countryside, ideal for an intimate break.
Visit our website to find out our prices and to make your reservation.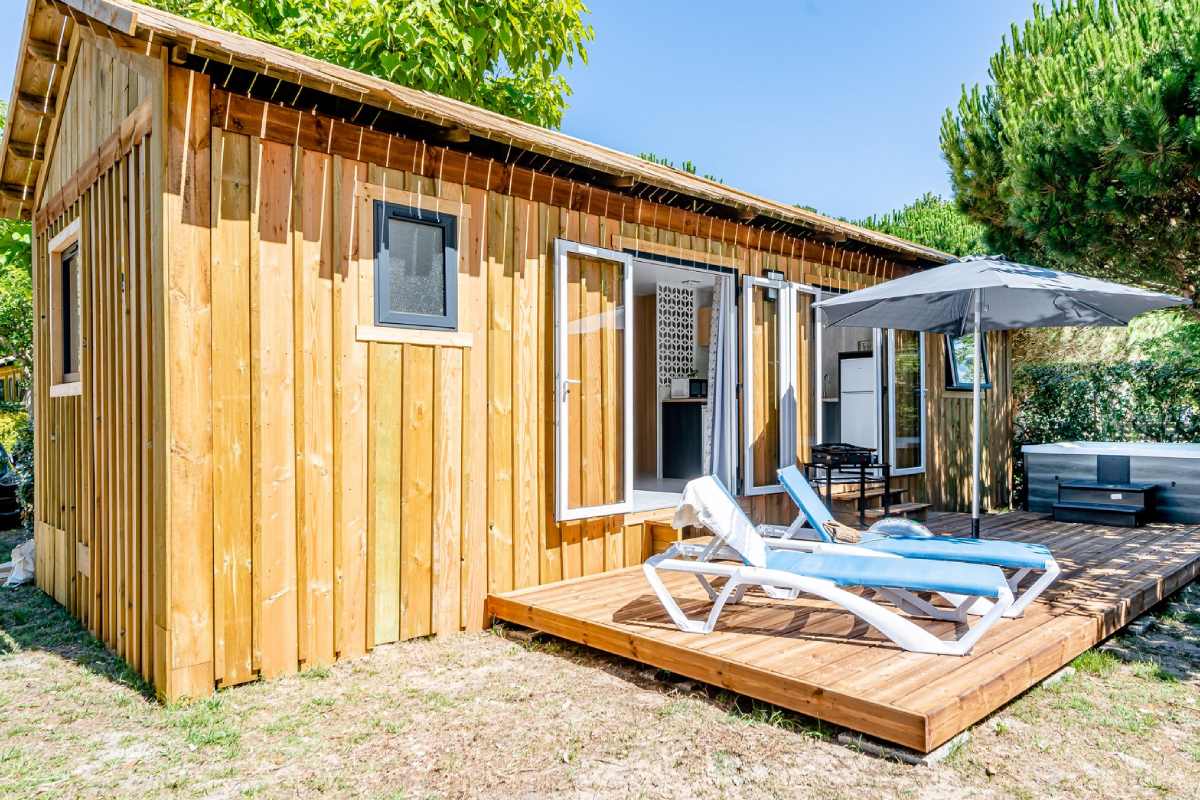 More information about our luxury cabins in Soulac
Our luxury cabins in Soulac-sur-Mer are designed for nature lovers and those who want to recapture their childhood spirit. The accommodations we offer have been built in total harmony with the surrounding wooded nature, while offering guests optimum comfort.
Les Carrelets' luxury cabins are spacious and feature a modern, luxurious design. They can accommodate 4 to 6 people and have a minimum surface area of 34 m².
Each of these accommodations at our 5-star campsite in Soulac-sur-Mer has a kitchen and at least 2 bedrooms and 2 bathrooms. All our luxury cabins have air conditioning and free wifi.
If you opt for a cabin for 4 to 6 people, you'll enjoy a private Jacuzzi and 2 bicycles for getting around on the site or in the surrounding area. It's worth noting that all the cabins are located in an area reserved exclusively for pedestrians. You can park your car in the estate's private parking lot.
Our Twin cabins for 10 people in Soulac
The Twin cabins in Soulac-sur-Mer offered by Domaine Les Carrelets can accommodate up to 10 people.
Larger families and groups of friends can opt for a Twin cabin. This luxury cabin comprises 2 chalet-style cabins linked by a large shared terrace. Each unit has a common room, kitchen, 2 and 3 bedrooms.

This 68 m² complex has 5 bedrooms and 3 bathrooms. These cabins are air-conditioned for maximum comfort.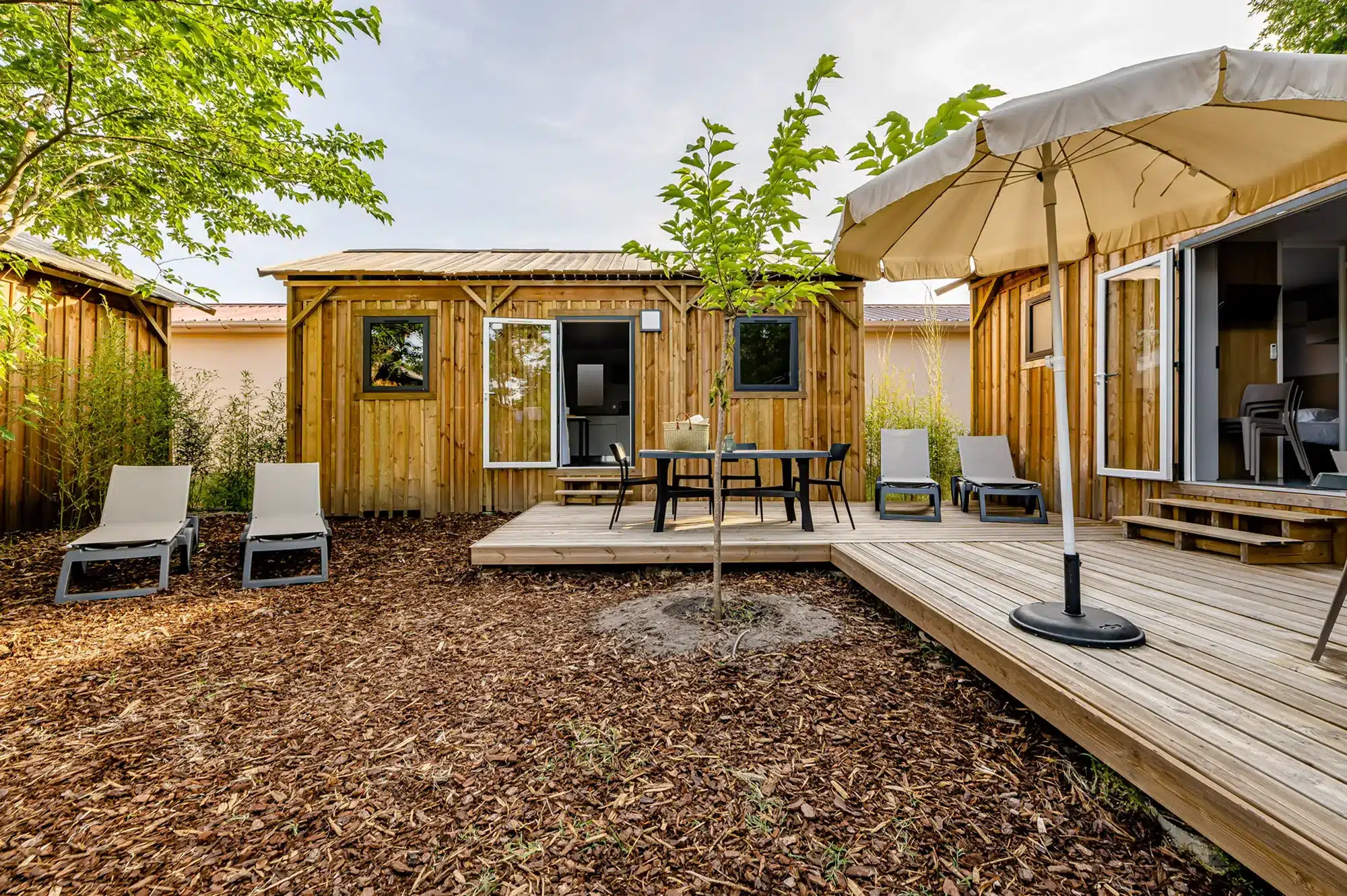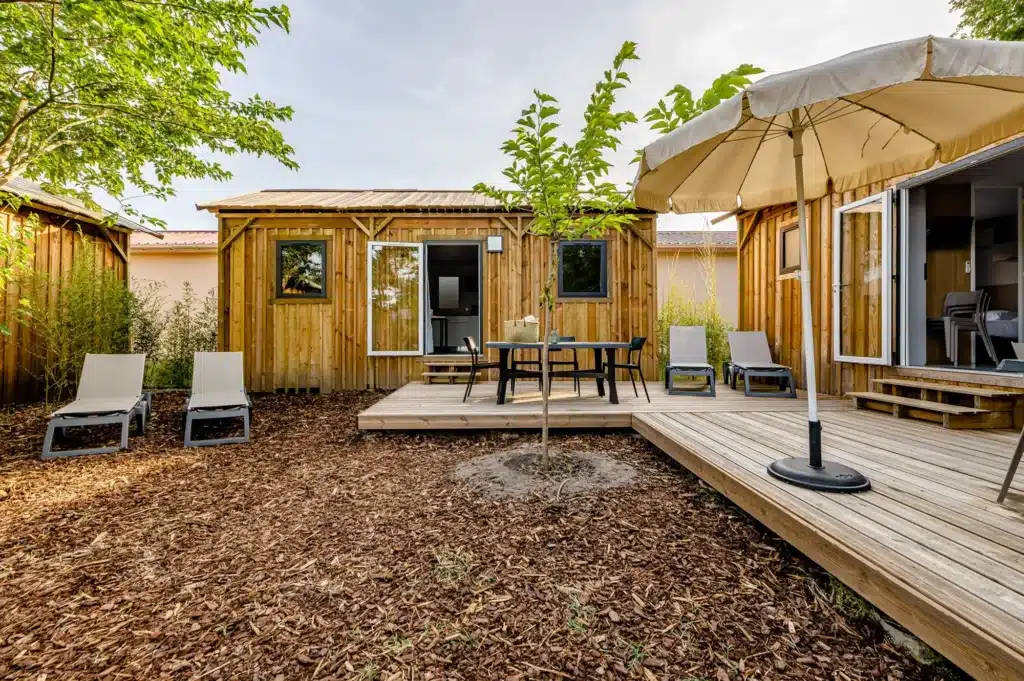 Our mobile homes for rent in Soulac-sur-Mer
In addition to luxury cabins and Twin cabins (sleeps 10), Les Carrelets also offers a range of mobile homes for rent in Soulac-sur-Mer. Each chalet is fully equipped and sleeps 2 to 10 people.
Les Carrelets mobile homes are available in several ranges. For your vacation rental in Soulac sur Mer, you can choose between Classic, Confort, Premium and Confort Twin (10 people).
All homes have private terraces, allowing you to spend time outdoors in complete privacy. One parking space per rental is allocated by the establishment.
Our campsite in Soulac-sur-Mer
Domaine Les Carrelets, located in the Gironde Estuary on the Pointe du Médoc, is a 5-star campsite offering luxury cabins for rent in Soulac-sur-Mer.
The establishment is located in the heart of a 9-hectare wooded estate, on the edge of an impressive pine forest and very close to the ocean and beach. Domaine Les Carrelets is a family campsite in Gironde where groups of friends and couples can also recharge their batteries in soothing surroundings.
2 swimming pools
Domaine Les Carrelets has an aquatic area open to all guests. A large 500 m² outdoor swimming pool welcomes you on long, hot summer days. Deckchairs are set out on the beaches around the pool so you can bask in the sun.
At our Soulac sur Mer campsite with swimming pool, swimming isn't just for the summer season. A 200 m² heated indoor pool lets you enjoy the water right from the start of the season.
The little ones will be delighted to splash around in the water jets of the paddling pool, specially designed to ensure their safety.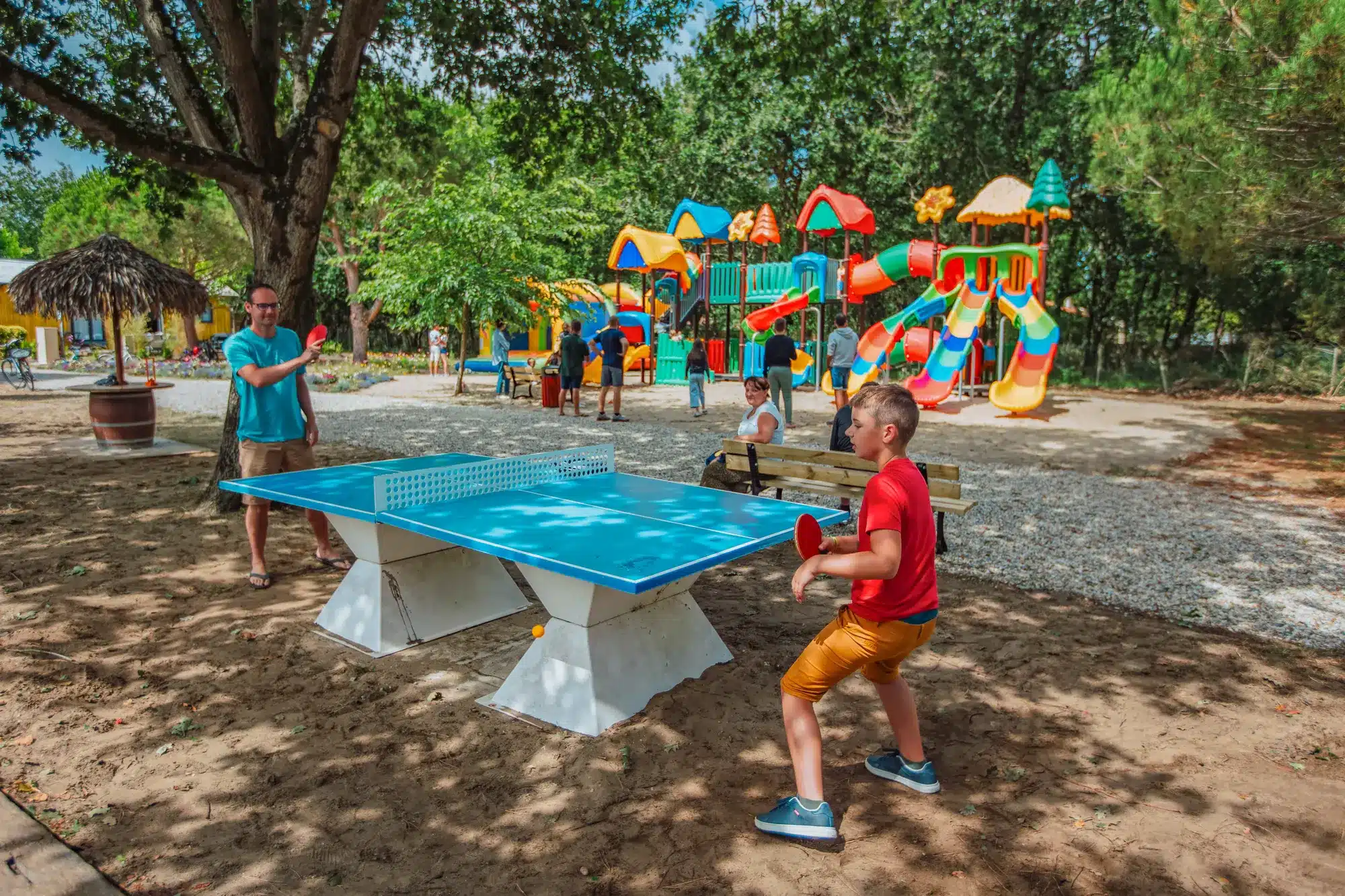 Activities near the cabins
Our Soulac-Sur-Mer campsite offers a wide range of activities to make your stay as enjoyable as possible.
Sports enthusiasts can keep fit by taking part in aquagym sessions organized in the aquatic area. A multisport court is also available to all guests. The on-site gym is open in high season*. Relax in the estate's wellness area.
A mini-golf course, bowling green and ping-pong tables are available for your family's enjoyment. A large garden and children's play area are also available on site.
You can rent a bike to explore the villages and ocean beaches close to the campsite. You can also visit the Port of Royan by boat from Le Verdon-sur-Mer, just 15 minutes away.
Kids' Club
To help your children create unforgettable vacation memories, the campsite's Mizzy Club welcomes toddlers aged 4 to 12 and offers fun activities. The club is staffed by professional entertainers and organizes activities and workshops for every age group.
For older children, a program for 13 to 17 year-olds is also organized during the summer vacations by the teen club's activity leaders.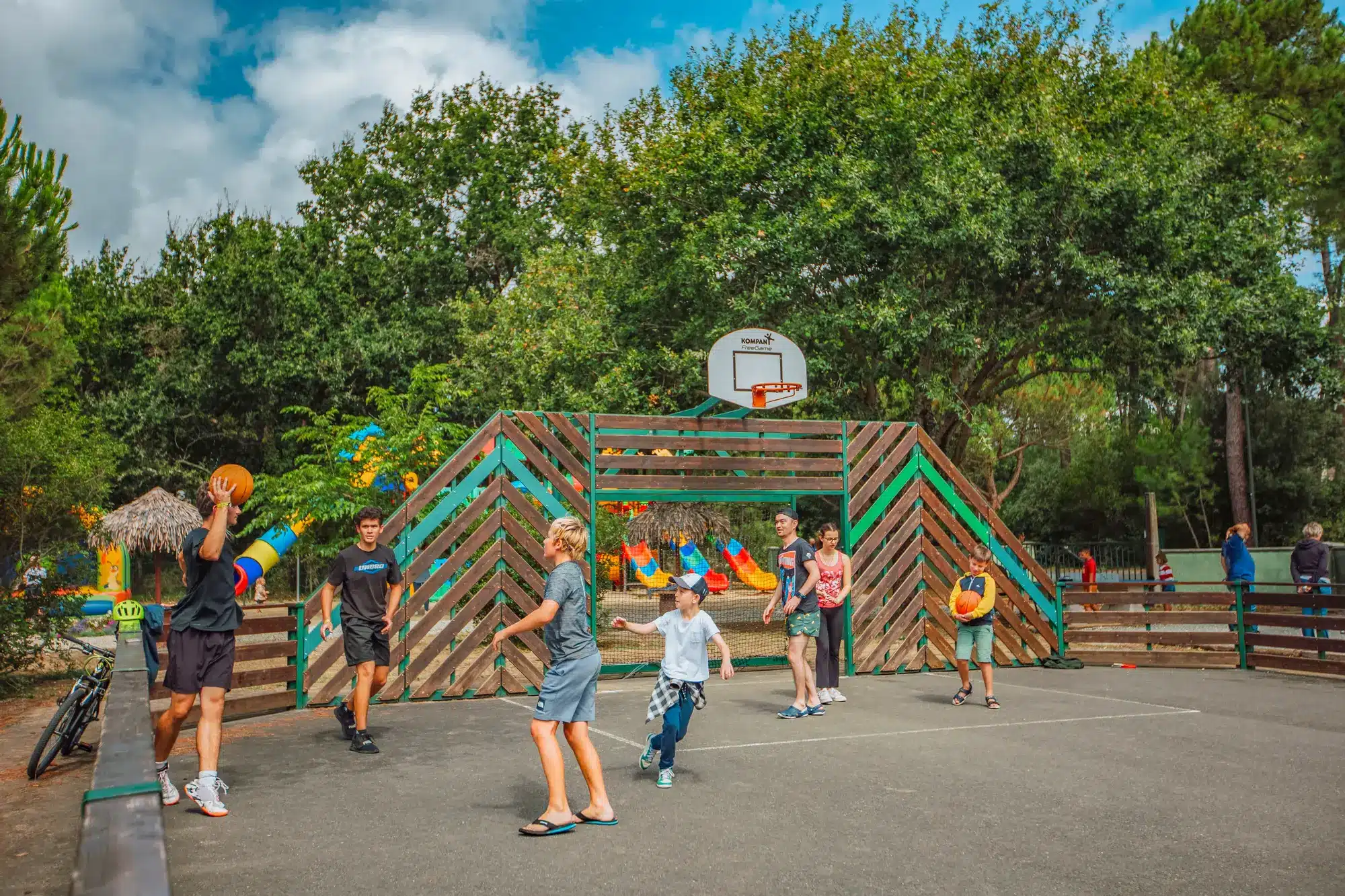 Services
The Domaine Les Carrelets team will be happy to welcome you and help make your stay at our Soulac-sur-Mer campsite an unforgettable experience. We'll provide you with all the services you'd expect from a 5-star campsite for the duration of your vacation.
A housekeeping package is included with your accommodation rental, so you don't have to worry about a thing during your stay. We also have a launderette open daily and accessible to all hotel guests. Linen and baby equipment can also be rented to ensure your comfort.
Les Carrelets de Soulac restaurant
Les Carrelets restaurant offers an original and varied menu to help you discover the region's culinary specialities. Our chef and his brigade concoct meals cooked with love, featuring products grown by local producers.
The Carrelets restaurant is open from midday to midnight in July and August. Meals can be ordered and enjoyed on site.
What do our customers think about luxury cabins?
Very pleasant stay, friendly and well-maintained campsite.
Special mention for the luxury cabins. Very nice services.
Jean-François - August 2023
The 6-person luxury cabin is well appointed and clean. The terrace is very pleasant with its deckchairs and jacuzzi. Two bicycles are available with the rental and beds are made on arrival.
Sabine - August 2023
For the second time, we enjoyed a pleasant family stay in a luxury cabin. The mobile home is well laid out, clean and well equipped. The outdoor setting is pleasant and every effort is made to respect everyone's privacy. Bicycles were included in the rental, great for family outings. The team is top-notch and responsive.
Alexandra - August 2023